The Collegiate World Cup of Sales is the ultimate measure of a University sales program's focus on overall business revenue generating skills:
Strategic decision-making in a Sales Management Simulation event*.
The  Warm Calling event where your role-players must make a telephone call to get the appointment.
Relationship development skills in a Role-Play event.
Sales management problem solving skills in a Sales Management Case event.
Presentation and speech skills in a Speed Selling event.
 The Community Involvement event where all attendees are asked to bring a food item for the Orlando Food Bank.  Yes, points are awarded for this event too.
Sponsors
University registration is closed.  However, corporations interested in recruiting from among the top collegiate sales programs in the nation, click here.
Get an overview of the entire event and why students are so excited to participate in ICSC.
Click on the picture to play.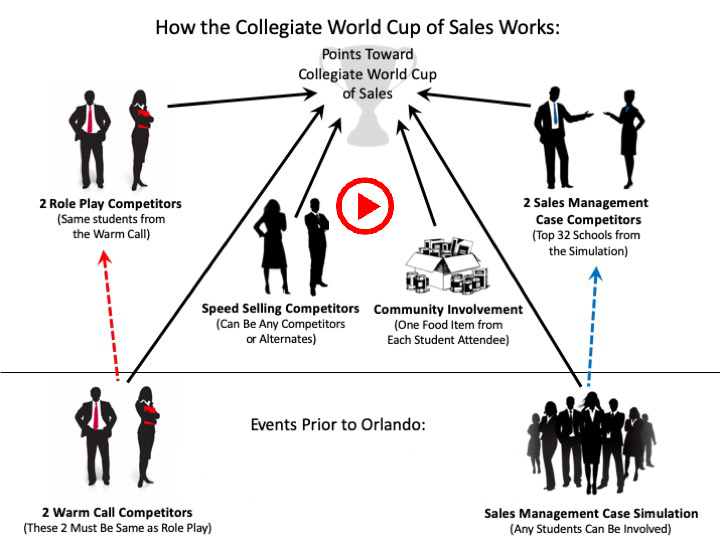 Competing universities will earn points in each event and the university accumulating the most overall points will be awarded the Collegiate World Cup of Sales. See the results of ICSC 2020 here.
A Short Summary of Each Event
The warm-call pre-event will start about four weeks before ICSC begins. All role-play competitors must get the appointment for the round 1 role-play.  Each competitor will complete a telephone call to a volunteer from one of the ICSC sponsor organizations. The goal is to get the appointment for the role-play round 1 meeting.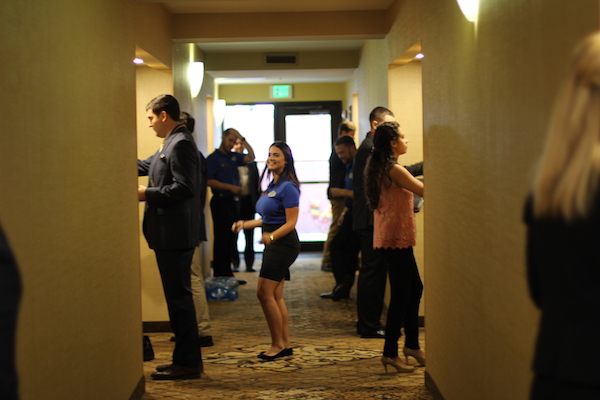 The role-play event is a four-round, tournament style competition where, for rounds one and two, the top two competitors from each room (flight) move on to the next round and in round 3 the top competitor from each room moves to the final round. The product for 2019, 20 and 21 is ReliaQuest and the 2021 prospect is Sir Richard Branson's Virgin Voyages. The role-play scenario is similar to a real complex selling situation where needs are developed in early meetings leading to a solution presentation and final purchase decision. The scenario always includes some aspect of international business.
The sales management simulation event is a pre-event elimination competition using the Wessex Learning Sales Management Simulation (SMS), originally created by Dr. Douglas J. Dalrymple and redesigned for current technology by Harish Sujan, Michael Ahearne and Noel Capon. This simulation is designed to teach important principles of sales management through an evaluation of the effectiveness of decisions relating to: (a) selecting and recruiting salespeople, (b) assigning salespeople to territories, (c) compensating salespeople, (d) setting time management policies, and (e) choosing prices for products. For this competition, points will be awarded for cumulative profit and total market share at the end of a simulated two-year period. This pre-event takes place in the spring semester before ICSC and pits groups of five universities against each other with the two in each group generating the most total points for profit and market share at the end of the simulated two-year period moving on to the on-site case presentation.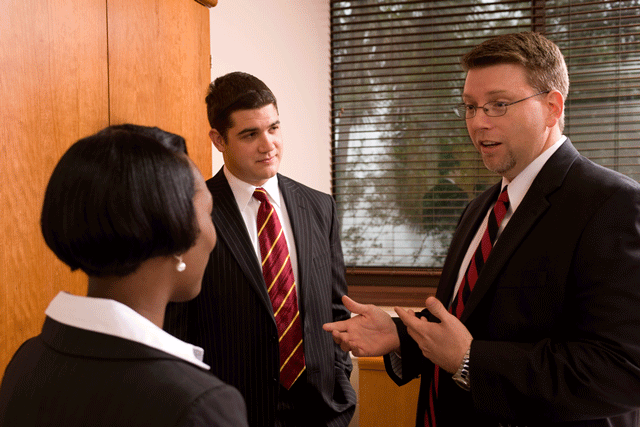 The on-site sales management case is a two-round event where two competitors working as a team are given a specific sales management situation related to a sales operations challenge at DLL and asked to present a realistic, effective solution to the issue.  For round two, finalists are presented with additional information about the issue and teams are asked to refine their presentation for a final presentation to executives from DLL.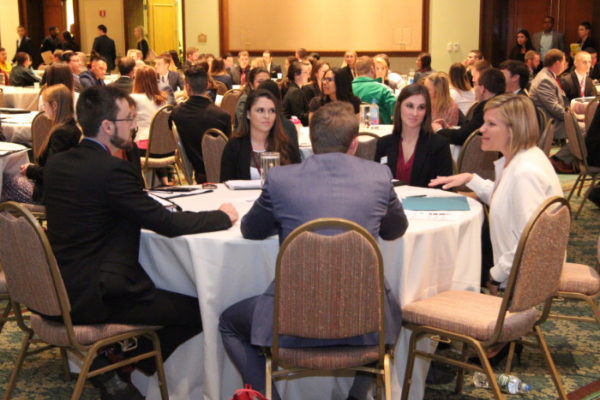 The speed selling event consists of two rounds of "elevator speech" type presentations. In round one competitors pick five companies and present to each while in round two the top ten competitors present to the speed selling host company in a public audience setting.
During the competition, each university student attending can earn a ticket to Disney World for Saturday afternoon and evening.
Click to see what ICSC 2019 looked like      and as we beat Covid-19 it will look like  this again – Upcoming Competition November 10-13, 2021